Website: http://www.bushlapa.com/index.php
Facebook page: https://www.facebook.com/bushlapa.paarl
Tel no : Paarl Branch 021 870 1277/38, Centurion Branch 076 020 5481

Let Bush Lapa blow your mind. It's the ingenious offroad trailer/caravan solution for the adventurer who travels off the beaten track but likes fuss-free convenience. Think light. Think 4×4. Think compact. Think queen sized bed. Think 10 minute set-up, fully equipped kitchen and long lasting rust resistance.
That is exactly what the engineers at Bush Lapa were thinking when they started developing their revolutionary offroad trailer/caravan combos. They had to be light and compact enough to look like a trailer that's just as agile as your 4×4, but engineered well enough to give you all the comfort and convenience of a caravan.
Mission accomplished…thanks to years of experience in the engineering and trailer building business and a dedicated team of engineering, management and production staff. It doesn't matter whether you use your Bush Lapa for a fast-paced offroad tour or simply want to set up camp in the outdoors. Once you have a Bush Lapa, you'll never again travel without it.
Modelle:
Bosluis 4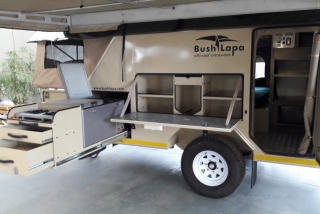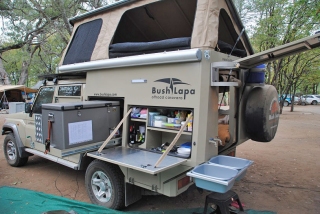 Ratel 6 – 6 sleeper